Records
LATERAL Mgt Services Ltd. provides comprehensive records management solutions. Also available are security vaults for storage of important documents. We undertake the management of both active and non active records.
Document Conversion Services
In today's ever changing world of business, people not only have to manage their information well and know how to find their documents, but they also need to be able to access this information instantly. LATERAL Mgt Management Services Ltd. has converged records management and imaging technology. We can offer our clients a choice of traditional hard copy retrieval, or use our imaging services to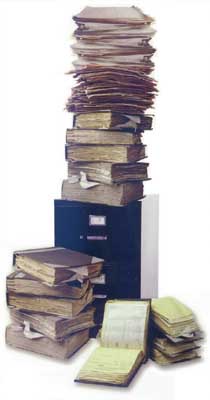 scan their documents onto a CD-ROM providing quicker retrieval access.
Facts for Potential Imaging Clients
Questions to be considered:
How many documents, files, or cartons are to be scanned?
Are they legal or letter size?
Are they loose sheets or in file folders, binders, etc?
Are they one or two sided?
Do we have to remove staples, elastics, binders, etc. and put them back together when finished?
How are the documents to be indexed, by date, name, subject, client #, etc?
Will we store documents (paper files) after imaging is complete?
All this information has to be assessed before a cost can be quoted.
Much of the cost is based on the preparation work involved.
Each CD holds 1800 - 2000 pages.
One time programming charge may apply.
We can store 'backup' CD in our vault.
The main benefit of imaging is to increase retrieval time/access to files.
---